High Rock Acres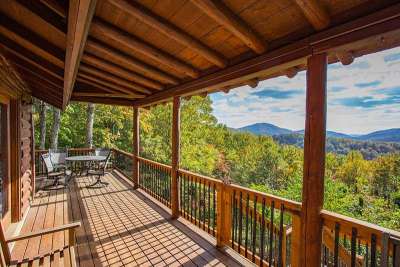 High Rock Acres is a nature lover's paradise just a few minutes south of Black Mountain, NC. Part of the neighborhood lies in Buncombe County, and part of it lies in McDowell County. So neighboring properties can actually be assessed different tax rates, depending on the county. Roads in High Rock Acres are all gravel, which contributes to the natural, rustic feel of the community. Lots are typically pretty generous in size, with some very large tracts still available. There are a few smaller lots (as small as 1 acre) as well.
What draws most people to High Rock Acres is the potential for mountain views and the serenity. Depending on your location within the community, the views could be sunset views of nearby ranges or long-range views to the east that go for miles! There are no restrictions in High Rock Acres, and vacation rentals are permitted. Many do very, very well, especially log cabins or those with big views! Lots that don't have views may enjoy a small stream, and all properties in High Rock Acres will have lots of wildlife, including black bears, turkeys, and deer.
It's also worth noting that some people refer to High Rock Acres as Tom's Creek.