Waterfall Properties for Sale Near Asheville, North Carolina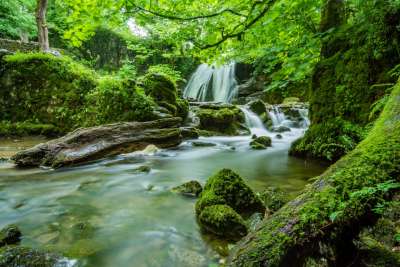 The Asheville area is world-famous for its waterfalls. With so many streams, creeks, and rivers nearby, it's no wonder that there are so many natural waterfalls around. There are several homes and land plots with waterfalls nearby that offer excellent places for homebuyers to look for waterfall properties for sale in North Carolina.
But just how many are there? There are literally thousands of waterfalls in the mountains of Western North Carolina. Just about 45 minutes south of Asheville is the town of Brevard, NC. The Brevard area alone is home to over 250 waterfalls, and many of these are on public land. This means they are accessible to hikers and photographers.
Many Asheville, NC real estate shoppers dream about buying homes or land for sale that have waterfalls in the vicinity. To find a property like this, you usually need to be a little further out from town. However, many urban properties have artificial waterfalls in their yards. The real estate listings below include Asheville area properties with natural waterfalls, as well as some with man-made water features.
Waterfall Properties for Sale