Horneyhurst Asheville Real Estate | Homes for Sale in West Asheville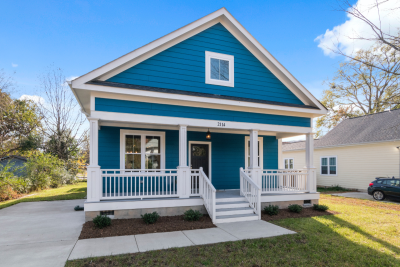 The Horneyhurst neighborhood in West Asheville, NC consists of charming houses, streets made for strolling, and plenty of mature trees that provide shade for yards and sidewalks. This neighborhood is highly walkable, with a variety of restaurants, bars, shops and a grocery store only a few minutes away by foot. Plus, downtown Asheville is only ten minutes away by car, so you'll never get bored when you choose Horneyhurst as your new neighborhood.
Named for developer J.T. Horney, the Horneyhurst subdivision dates back to the early twentieth century. There are still some houses in this neighborhood from the 1920s (and even earlier). The rest of the homes span the decades of the twentieth century, and some were even built as recently as the last ten years. Thus, Horneyhurst real estate contains quite a bit of variety, and you'll find Arts & Crafts bungalows sitting just down the street from modern, energy-efficient new builds. Each house has its own personality, and if you're looking for classic design elements (such as wood floors, screened-in porches and wood fireplaces), you're likely to find them in the homes for sale in Horneyhurst.
Just a few blocks south of Horneyhurst is Haywood Street, the main avenue that runs through the heart of West Asheville. Haywood Street is home to some of the best food and drinks in the area (and in Asheville as a whole!) – including Sunny Point Café, which has been nationally recognized for creating unforgettable Southern comfort food. If you're a chef at heart, you'll want to pick up local, seasonal ingredients at the West Asheville Tailgate Market. Just want a hot beverage or a sweet treat? Visit Dobra Tea West to get a cup of authentic, whole-leaf hot tea, or drive down to OWL Bakery to try a delicious pastry. It's a food lovers' wonderland, right outside your front door.
Homes for sale in West Asheville get snatched up in the blink of an eye, so don't wait long. View our current listings of Horneyhurst homes for sale below.
Horneyhurst Homes for Sale