Amber Knolls | Weaverville NC Real Estate for Sale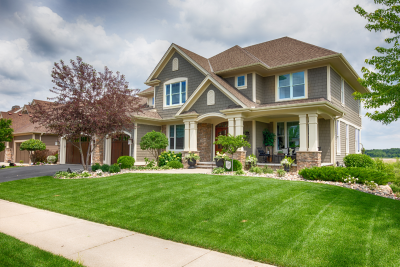 Amber Knolls is a family-friendly neighborhood about 20 minutes from downtown Asheville, NC. Located in the small town of Weaverville, NC, this subdivision is centered around quiet Amber Knoll Court, a street that dead ends in a cul-de-sac. Large houses with plentiful yards offer space for kids and pets to play safely and room for gardening. Most homes on Amber Knoll Court and nearby streets were built in the 1990s and contain three or more bedrooms. Many also have attached garages and premium features such as wood floors and decks with mountain views. If you're looking for Weaverville, NC real estate in a safe and relaxing mountain neighborhood, Amber Knolls Weaverville is the place for you.
Amber Knolls Weaverville is ideal for those needing to commute into downtown Weaverville (10 minutes away), Woodfin (10 to 12 minutes away), or Asheville (20 minutes away). Nearby, you'll find all the necessities for daily life, including grocery stores, fast food, urgent care centers, veterinarians, gyms, and churches. The closest public schools are North Buncombe/N. Windy Ridge Elementary, North Buncombe Middle, and North Buncombe High (all 10 minutes or less from Amber Knolls).
This neighborhood is also close to many places to eat, drink, shop and spend time outside in Weaverville. These include local restaurants and breweries like Yellow Mug Coffee Lounge, Soba Sushi and Noodles and Eluvium Brewing, salons like Aabani Salon Weaverville and art studios like Mangum Pottery Studio. You can head to Lake Louise Park to spend time outdoors, picnic, walk, bike and fish in the over five-acre man-made lake. The park has outdoor exercise equipment, a playground, grills, and a small waterfall. The 10-acre Main Street Nature Park is near Amber Knolls in Weaverville as well.
Are you ready to make this pleasant, welcoming neighborhood your new home? Take a look at the homes for sale in the Amber Knolls subdivision in Weaverville, NC.
Real Estate for Sale in Amber Knolls