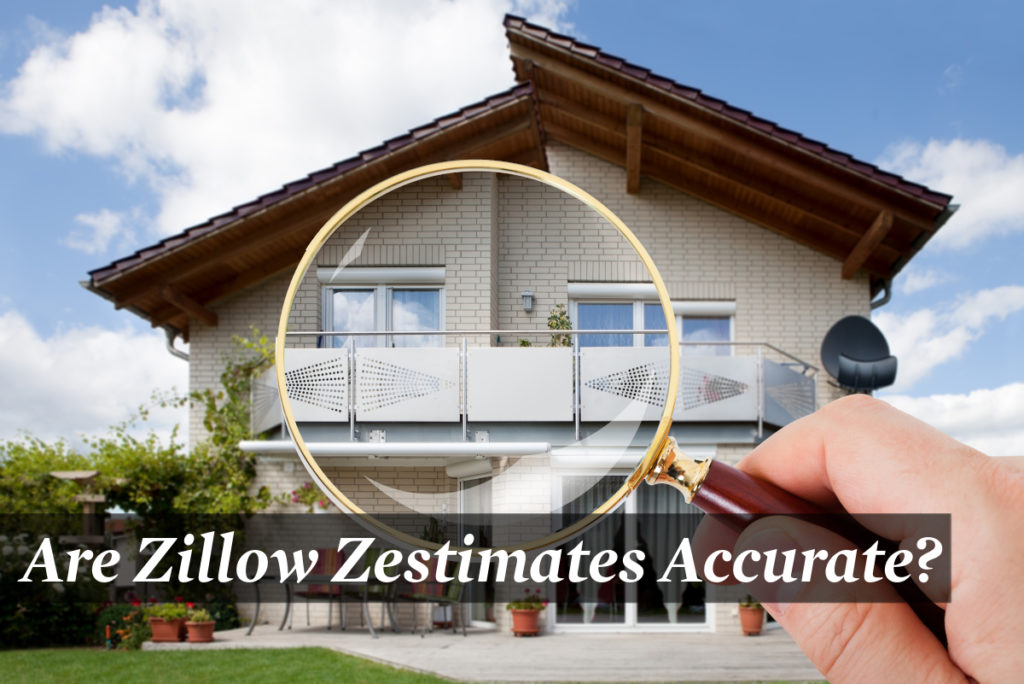 A few years ago, we wrote an article about the accuracy of Zillow Zestimates. At the time, we pointed out that Zillow based their Zestimates on quantitative data, such as square footage, year built, number of bedrooms, etc. Since then, Zillow has made improvements to its algorithm to include other factors in its Zestimates. But there are still some things that you should consider when looking at the Zestimate of your home or of a home that you are considering buying. The same is true for any online valuation tool, including those provided by companies like Realtor.com and Redfin.
In this post, we'll discuss the methods that Zillow and others use to calculate your home's value, as well as the potential shortcomings of these methods. We'll also look at some non-automated ways to value your home – including appraisals and Comparative Market Analyses (CMAs).

What is a Zillow Zestimate?
A Zestimate is Zillow's automated home valuation tool. It is not meant to take the place of an appraisal or a CMA. In fact, Zillow's website says:
…it should be used as a starting point. We encourage buyers, sellers and homeowners to supplement the Zestimate with other research such as visiting the home, getting a professional appraisal of the home, or requesting a comparative market analysis (CMA) from a real estate agent.
It's also important to note that automatic valuations such as a Zillow Zestimate are not used by banks or lenders to estimate a property's value for a mortgage. Only an appraisal from a licensed appraiser can be used for a mortgage.
Is a Zillow Zestimate High or Low?
As real estate agents, we are often asked "How Accurate are Zillow Zestimates?" Zillow actually provides data for most real estate markets about the accuracy of Zestimates. As of the date of this article, the median error for larger markets is usually around 2% of the sale price of the home. But the problem with Zestimates is that when they are wrong, they can be significantly wrong. For example, depending on the metro area, Zillow might be within 5% of the sale price only 62% of the time.
We downloaded the Zillow Zestimate data for Buncombe County, which includes the Asheville and Black Mountain real estate markets. Here is that data:
Buncombe County Zestimate Data
Off-market Properties
Median Error – 10.8%
Homes with Zestimates – 84.9k
Within 5% of Sale Price – 27.8%
Within 10% of Sale Price – 47.0%
Within 20% of Sale Price – 72.1%
On-market Properties
Median Error – 2.1%
Homes with Zestimates – 1.8k
Within 5% of Sale Price – 82.1%
Within 10% of Sale Price – 95.5%
Within 20% of Sale Price – 99.2%
For homes on the market in Buncombe County, Zillow only comes with 5% of sale price 82% of the time. That's not terrible, but if your home is part of the 18%, an error or more than 5% can be significant.
It's important to note that Zillow's data is markedly better for on-market homes than for off-market homes. This is likely because Zillow can use MLS data for homes on the market, which should be more accurate than tax records data. But even so, Zillow is not accurate enough in Buncombe County to make it a reliable valuation tool.
How Does Zillow Estimate Property Values?
According to Zillow, Zestimates are created by incorporating
…public and user-submitted data, taking into account home facts, location and market conditions.
User-submitted data would include MLS data from Realtors, as well as facts submitted by property owners about their homes. Zillow also uses tax records. But tax records are notoriously inaccurate, especially for older homes that may have been improved over the years without the tax records being adjusted accordingly.
Is Realtor.com or Zillow more Accurate?
This is another frequently asked question from home sellers and buyers. The main difference between Realtor.com home values and Zillow Zestimates is that Zillow uses its own program to create a Zestimate, while Realtor.com uses several 3rd parties to provide multiple home values. According to Realtor.com's page about home value estimates:
Our home valuations come from independent, automated valuation model (AVM) providers, whose solutions are used by many financial institutions, insurance companies, and real estate agents. Each AVM provider applies a unique approach and methodology resulting in a range of values that consumers can use as a starting point for discussions with a real estate agent.
Zillow Zestimates, Realtor.com estimates, and even Redfin Estimates can be very different from each other. They all use different methods to value properties. And each of these websites has a disclaimer that their valuations should only be used as a starting point and should be followed up with a CMA by a licensed Realtor or an appraisal by a licensed appraiser.
Are Realtor Estimates Accurate?
A Realtor estimate, or a Comparative Market Analysis, should be more accurate and more detailed than an online valuation tool like a Zestimate. There are several reasons for this. First, real estate agents who know a particular area will be intimately familiar with the comparable sales. In many cases when we prepare a CMA, we have actually been inside some or all of the comps or even represented the buyers or sellers in the sales. That knowledge is far superior than any data that a computer algorithm could use.
Second, a typical CMA is going to be 10 pages long or more. Not only will you see details of each comparable sale, but you will see the adjustments made to each one to determine the value of your home.
Last, Realtors have invaluable experience with buyers, and we can predict how buyers will value (or devalue) the features in your home. Buyer preferences change over time, and only by engaging with buyers on a regular basis can an agent stay up to date on what buyers want and don't want.
What is the Best Home Value Estimator?
The best ways to value your home are an appraisal or a CMA. There are some cases where an appraisal is absolutely required (such as for a mortgage). But in cases where a CMA is permitted (such as determining the price for a new real estate listing) a CMA has some potential advantages over an appraisal. First, an appraisal could cost around $500. Second, while appraisers are very skilled and prepare detailed reports, they don't always have the in-depth experience of having worked with homebuyers to evaluate and make offers on homes. At Freestone Properties, we offer a free CMA for homeowners and home buyers. For homeowners, a CMA is often the first step in deciding whether or not to list their home for sale. For buyers, a CMA is part of the process when deciding how much to offer for a home or lot.
Conclusion
It's worth mentioning that online valuation tools have come a long way. Ten years ago, online tools like Zestimates were very inaccurate. Today, they can be useful, but they should still only be used as a starting point. Always let an appraiser or a real estate agent who knows the local market assist you in determining the value of your home before you buy or sell. We'd love to help you determine the value of your home. Simply contact us to get started.