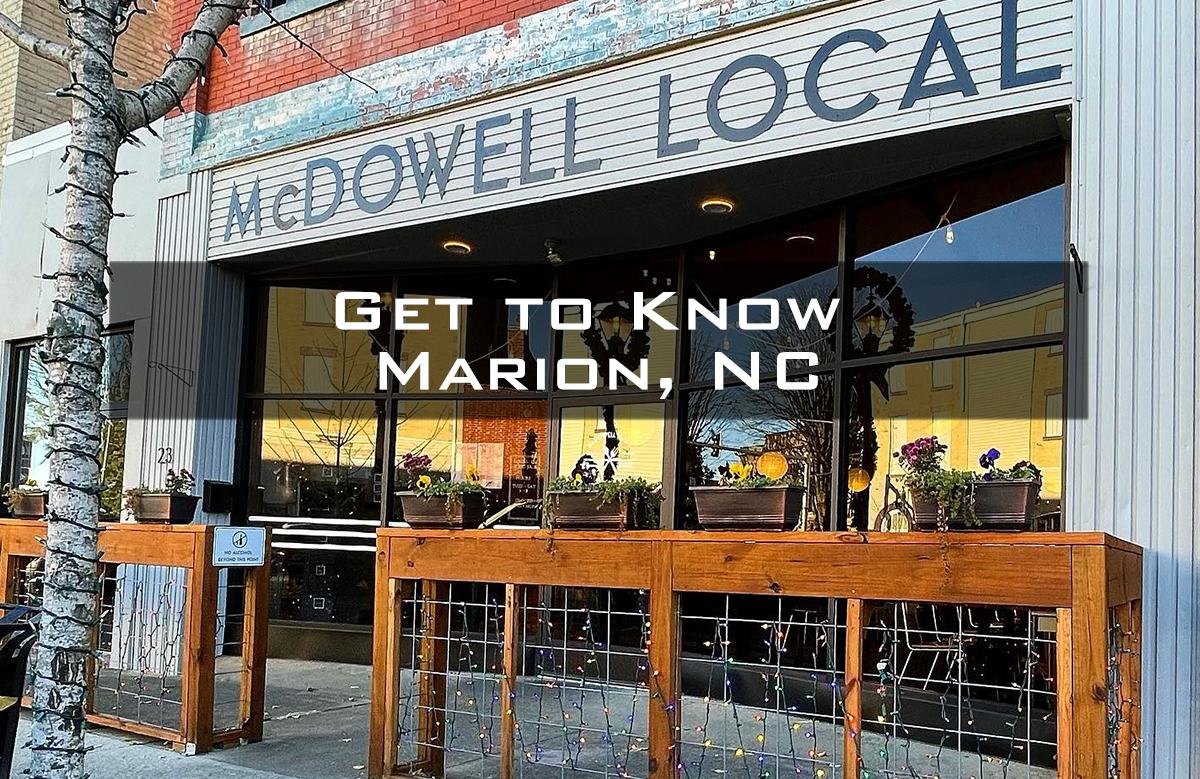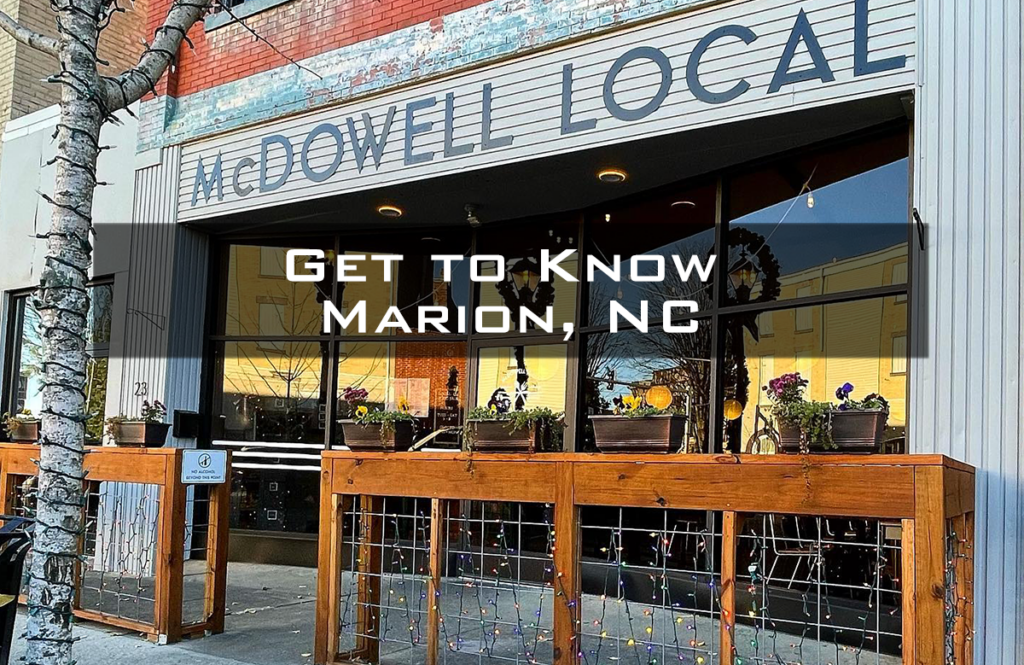 Marion, North Carolina, is a town east of Asheville, NC, surrounded by mountains and full of local history and art. Downtown Marion is where past and present collide, with historic buildings alongside new businesses and restaurants that draw visitors to the area. Natural beauty, hometown charm, and the creativity and energy of local artists and entrepreneurs make Marion a must-see when visiting Western North Carolina. Read on to learn more about Marion, NC attractions, food, festivals, and real estate.
Marion, NC Location and Demographics
Marion is located about 40 minutes from Asheville. Nestled in the Blue Ridge, Marion sits near the foot of Old Fort Mountain and is a short drive away from both Mt. Mitchell (the highest point east of the Mississippi River) and Linville Falls. At the 2010 Census, Marion's population was 7,838.
Marion is also home to Carson House, one of the oldest structures in North Carolina. Carson House was built in 1793 and served as a stagecoach inn and stopping point for historical figures such as Andrew Jackson and Davy Crockett. The home is now a regional history museum containing quilts, paintings, pottery, Civil War artifacts, and more. Guests can take one-hour guided tours.
The McDowell Greenway gives Marion residents a safe, beautiful path to walk and bike, and is accessible for strollers and wheelchairs.
What is Marion, NC known for?
Marion is known for its natural beauty, history, and welcoming atmosphere of its Main Street. Marion is named after Francis Marion, a Revolutionary War hero, and the town is the county seat of McDowell County. Its Main Street Historic District is listed on the National Register of Historic Places.
Marion's Main Street is home to a number of shops and restaurants, including McDowell Local, serving up modern American cuisine with a focus on sourcing ingredients locally.
Things to Do in Marion, NC
Marion may be a small town, but there's lots to explore. Check out these things to do, both indoors and outdoors:
For art lovers, the Founders' Art Walk is a public outdoor art exhibit that highlights the area's most legendary places. The McDowell Arts Council Gallery & Theatre is also downtown and its artisan shop is open to the public.
The Miller Building (located on Logan Street) houses 310 District, an indoor space containing an indoor skating rink, restaurants, retail shops, and more.
Joseph McDowell Historical Catawba Greenway runs along the Catawba River, and it's a perfect place for a stroll in the park. The trail is flat and paved, so strollers and wheelchairs can travel with ease. The greenway is located close to parking and easy to access.
On Tuesdays (May-October) and Fridays (July and August), stop by the Historic Downtown Marion Tailgate Market. Purchase local produce, meats, cheeses, flowers, baked treats, and crafts while supporting community farmers and artists – it's a win-win. Admission and parking are free.
The surrounding mountains are full of places to hike, walk, and mountain bike. Head up to the Mt. Ida Wilderness Area, a 36-acre park with a picnic shelter and hiking trail with views of downtown Marion. For more adventurous explorers, the Woods Mountain trail is one of the most challenging in the area. The 24.9-mile loop crosses the Mountains-to-Sea Trail and is suited for experienced hikers and mountain bikers, as it is truly wild in some areas and easy to get lost.
Keeper's Cut serves mead, wine, and charcuterie located in the heart of Marion's Historic Depot District.
Marion, NC Restaurants and Breweries
When you're exploring Marion, make sure to grab a meal at a great local restaurant. Here are our recommendations:
Mica Town Brewing is Marion's first craft brewery, and offers a variety of their own brews combined with guest ciders and wines.
Festivals in Marion, NC
Marion also hosts festivals that are fun for the whole family. Plan your next trip around one of these events:
The WNC Bigfoot Festival is hosted annually by local nonprofit group Bigfoot 911. Believers and nonbelievers can enjoy Sasquatch-themed activities, panels, food and more (including a Bigfoot calling contest). Click here for the festival's schedule and more information.
Mountain Glory Festival is a celebration of autumn held on the second Saturday of October each year. This festival draws thousands of people to downtown Marion each year, and festivities include arts and crafts vendors, food, live entertainment, children's events, a 5K walk/run, a pet show, and more. Click here for more information.
The Livermush Festival is a celebration honoring livermush, a local treat made from pork liver, cornmeal and spices. The festival is held annually in June and features a free sandwich giveaway from local livermush artisan, Hunter's Livermush of Marion. There are also inflatables, kids' activities, music, dancing, and a livermush eating contest. More information on the festival is available from the Marion Business Association.
Campgrounds Near Marion, NC
Looking for a place to camp in Marion? Try one of these local campgrounds:
Riverbreeze Campground & RV has 106 RV sites with city water, sewer and electric hookups (30 and 50 amp service) as well as tent sites that include water and electricity. They are open all year long. The campsite is next to the Catawba River, with easy access for tubing, canoeing, kayaking, fishing and swimming.
Hidden Creek Camping Resort is a 64-acre park with full hook-up, including water and electric (30 and 50 amp), and tent sites. They offer lakeview and creekfront options for sites and also have cabins available for rent. Guests can enjoy paddleboats, canoes, kayaks, a 300-foot water slide, pools, fishing, and tons of events including crafts, dances, s'mores roasts, and movies under the stars.
Homes for Sale Marion, NC
There's something for everyone when it comes to Marion real estate. Cottages, bungalows, ranches, and vacant lots are regularly listed at competitive prices. Homes in the area offer a range of sizes, from 1,000 to almost 6,000 square feet. Many vacant lots in Marion are often bigger than those for sale in Asheville, and residents will have a range of customizations options for their new homes. For many residents, shops, restaurants and businesses in downtown Marion are within walking distance, and it is a short drive to hiking and walking trails like those near the Catawba River.
If you're interested in making Marion your new home, be sure to check out neighborhoods in the Marion area, or click here to see real estate listings in downtown Marion. We want to help you find the perfect place for your family in the Blue Ridge Mountains. Drop us a line if you have any questions – we would love to hear from you!