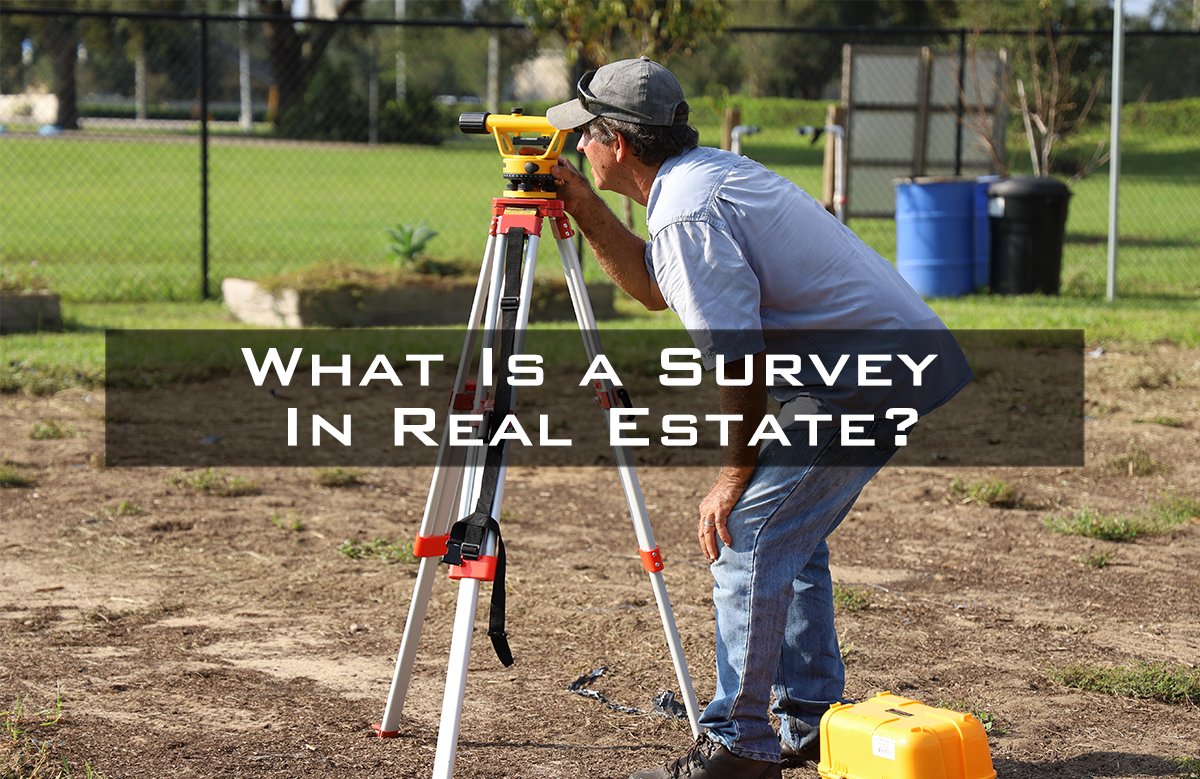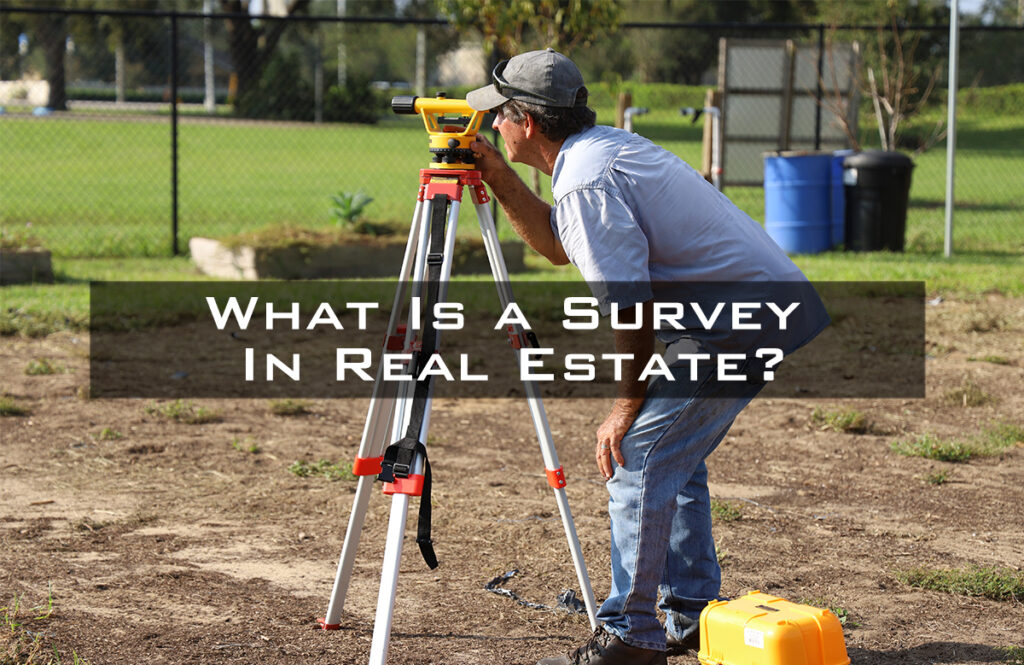 A survey is a highly useful piece of information for homeowners, especially those in the process of purchasing property. While it is a matter of course to have an empty piece of land surveyed before closing, many prospective homeowners do not order a survey before they purchase their new home and the surrounding land. This can be costly when unexpected problems arise later on that a survey could have helped avoid.
Surveys are valuable because they show true property lines and corners, improvements on the parcel, encroachments from adjacent properties, and more. Read on for an overview of getting a survey on your property, what a survey includes, and why a property survey can benefit you as you prepare to close on a new home.
What is a Property/Real Estate survey?
A survey is a service where professionals confirm the boundary lines and legal description of a property. The survey documents all edges and corners of the land and shows geological features, improvements to the property, and any existing agreements for others to use the land (if those exist). There are multiple types of surveys, including property, construction, and topographic. This article focuses on property surveys.
What does a Property Survey Look Like?
A survey consists of four parts, beginning with research done in advance by the surveyor. They search through the history of the deed to see where the property's boundaries have laid over time, and they may also conduct a title search to ensure there are no issues when it comes to who owns the land.
The surveyor will then travel to the property to do fieldwork, which includes sketching out a map of the land, its boundaries, and everything on the property. They measure the edges of the property and determine where the corners sit. After they finish, the surveyor will provide you with a map of the surveyed land as well as a written description of the property, street address, and location of adjacent properties. A surveyor's findings are legally binding and can even be used as evidence in court, if necessary to settle disputes.
What is a Survey used for in Real Estate?
A survey is used for determining legal boundaries of a property, establishing an up-to-date map that includes all improvements to the property, and showing if there are any encroachments by neighbors. Surveys reveal previously-unknown things about the property which can help homeowners avoid conflicts, neighborhood rule violations, and other unfortunate situations.
A survey also confirms if there are any existing right-of-ways, easements, and/or setbacks. If you're unfamiliar with these terms, here's a brief overview:
Right-of-Way: A right-of-way allows others to travel through your property, usually for access to another property or by an adjoining property owner (or owners) to a public road.
Easement: An easement is similar to a right-of-way, except it is an agreement that covers a specific party that needs to use the owner's land. An easement would cover access for utility installation and maintenance, ingress and egress, or could even solve an encroachment issue.
Setback: A setback is the distance that must be maintained between your house and the property features around it. This is often determined by city or county ordinances or by a homeowners' association. If you add onto your home or build a new structure, setbacks will determine how close it can be to the road or a neighbor's home.
What is the Average Cost to have Property Surveyed?
The cost to survey a property varies depending on property size, location, and terrain, as well as how much time it takes to research the property.
We recommend hiring a licensed surveyor to obtain a new survey of your property. Reach out to us to find one who suits your needs.
How do I get a Survey of my Property?
To obtain a new survey of the property, you should hire a licensed surveyor. When searching for a surveyor, don't be afraid to shop around and interview surveyors to find one who fits your needs and timeframe. You can also ask your real estate agent for surveyor recommendations.
If you do not want to have a new survey completed, you can try to find an existing survey of the land. Check the property deed, as sometimes this document will reference a past survey of the land. You can also find surveys in property records that were filed with the local register of deeds. These may be physical or online records. Your local government may have a Geographical Information System as well which shows an aerial map of your property. Be careful, however, as this map will not be as accurate as a new survey of the land.
If you know who surveyed the land previously, reach out to the surveyor and ask for a copy of the survey. They may charge a fee for this service. Bear in mind that this survey could be out of date and not necessarily as accurate as a new survey.
A survey will give you confidence in your property's boundaries, especially in the mountains where clear boundaries may not be obvious.
Is a Survey Necessary when Buying a Home?
It is not required by law that you have a survey done before you close on a home. However, some mortgage lenders require it to close on vacant land.
Even if it is not required by your lender, you should consider getting a survey done before closing, especially if you want to expand your newly-purchased home, add fencing to your yard, or build a secondary structure somewhere on your property. A survey will give you confidence in your property's boundaries so you can begin construction without unknowingly infringing on someone else's land.
A survey can also be helpful if you're not planning to build, as it can uncover aforementioned easements, right-of-ways, and areas where it might be easy to encroach on your neighbors' property (or vice versa). The survey will show you exactly what you're responsible for (and what you're not responsible for). If your survey includes a title search, it can also reveal any discrepancies with the land's ownership before you buy.
However, if you aren't able to have a survey done before you buy, you can always have one done later on before beginning construction, DIY projects, or even just for your own peace of mind.
Is it Worth Getting a Survey when Buying a House?
While having a survey done is an extra expense on top of the many costs of purchasing a home, a survey can save you money in the long run. A survey can help you be sure of exactly what is yours when it comes to your new home and land. It may also be helpful if you need to re-negotiate with the seller, because you will be fully informed on all that is included in your purchase.
Having a survey done of your property before you buy can help you avoid headaches in the future. It's a great way to fully understand the big investment you're making, and it can help you plan for improvements, too.
If you're thinking of moving to the Asheville, North Carolina area, please let us know! We can help you find the perfect home or piece of land to build on. Check out our buyer resources as well for tips on how to navigate the home buying process.