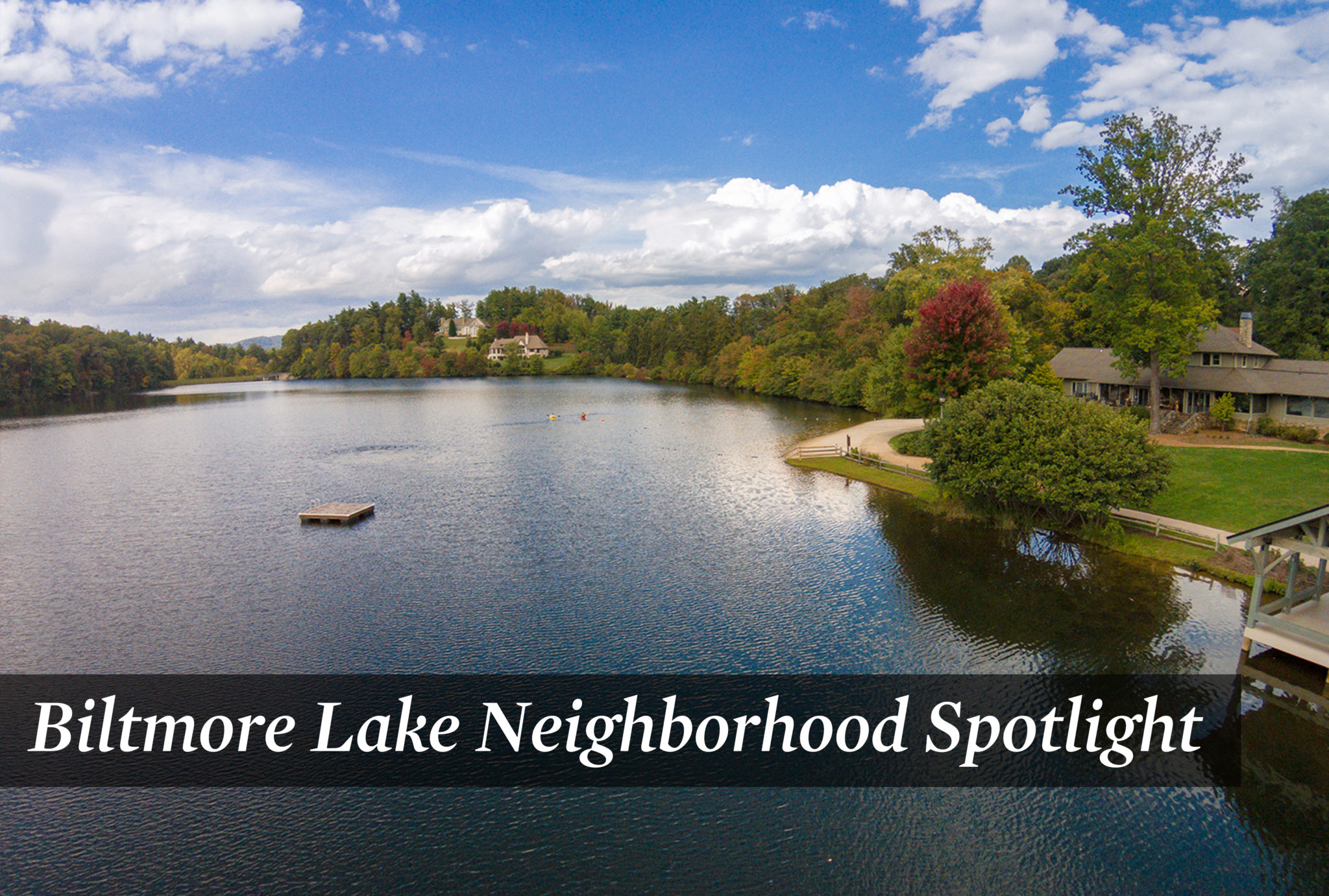 Biltmore Lake is a planned luxury community about 20 minutes from downtown Asheville. As you drive through Biltmore Lake, peaceful streets lined with craftsman homes and gorgeous gardens welcome you in as you approach Enka Lake, the neighborhood's centerpiece. In this post, we'll take a look at Biltmore Lake's history, amenities, and homes for sale.
Where is Biltmore Lake?
Biltmore Lake is located near Candler, North Carolina, just outside of West Asheville. The neighborhood consists of over 650 homes, a 62-acre lake, walking trails, and other amenities for residents.
History of Biltmore Lake
The American Enka Corporation, a Dutch textile company, was established outside of Asheville in 1928. A neighborhood called Enka Village was created near Enka Lake to house workers and executives of the factory. Houses in this neighborhood were built in the Arts & Crafts style, which is echoed in many current Biltmore Lake homes.
BASF Corporation bought the land from American Enka in 1985; then, in 2001, Biltmore Farms, LLC bought some of the BASF land to create the Biltmore Lake community. On the property, they built a master-planned neighborhood with Arts & Crafts homes featuring modern luxuries and state-of-the-art community amenities.
Amenities in Biltmore Lake
Biltmore Lake is one of the most amenity-filled communities in the Asheville area, offering residents access to many benefits.
Shimmering Enka Lake is just steps from residents' front doors. The lakefront is the perfect place to walk with friends, or you can check out a kayak to take on the water. Swimming is also encouraged during the warmer months.
Play singles at one of the two tennis courts, or join the Saturday tennis group to play with friends.
There's also a full-length, lakeside basketball court where you can shoot hoops, and kids can enjoy the neighborhood's playground.
With four miles of walking trails, it's easy to exercise or walk your dog on the lush, shaded paths around the neighborhood, as well as sidewalks on each street. Click here to see a community map complete with all trails.
The clubhouse offers a place to meet with neighborhood friends or relax with a book from the exchange library, wireless internet, and cup of complimentary coffee.
Biltmore Lake offers a wide variety of amenities for all ages, including a basketball court, boat rentals, a beach for swimming, and a tennis court.
Accommodations, Dining, and More near the Biltmore Lake Neighborhood
Accommodations
If you're visiting the area near Biltmore Lake, you can choose from a few great accommodation options. The Hilton Asheville in South Asheville's Biltmore Park offers a luxury stay surrounded by shops, restaurants, and the community's charming town square. If you would rather stay near the Biltmore house, try the Doubletree or the Hampton Inn in Biltmore Village. To stay even closer to Biltmore Lake, check out the Holiday Inn Asheville – Biltmore West, located right off Interstate 40.
Bars and Restaurants
When it's time to grab a bite to eat, try one of Candler's best stops: Rejavanation Cafe. This charming, locally-owned cafe offers breakfast and lunch specials along with coffee and tea. For more options, head over to West Asheville for some of the city's best meals. If you love hot wings, try Rocky's Hot Chicken Shack, or if you're craving Southern comfort food, try Sunny Point Cafe (listed on Yelp's "Top 100 Places to Eat in America" list). For a cozy yet upscale dinner, try Jargon, a contemporary American eatery that's regularly ranked as one of the best in Asheville.
Nearby Attractions
There are lots of fun things to do near Biltmore Lake, from the iconic Biltmore House and Estate to the bustling streets of downtown Asheville. Here are some more of our favorites:
The North Carolina Arboretum is a nature lover's dream, with biking and hiking paths, a bonsai exhibit, gardens, mountain views, and more. It's only ten minutes away from Biltmore Lake.
The neighborhood is also close to an entrance to the Blue Ridge Parkway, the historic road that weaves through the Appalachian Mountains, from Cherokee, NC, to Virginia. Covering 469 miles, this picturesque road is used by locals and visitors for daily commutes as well as leisurely drives to enjoy overlooks and lush forests.
About twenty minutes away, Biltmore Park is a mixed-use development that includes a residential neighborhood as well as Biltmore Park Town Square. The Town Square contains a movie theater; local and national restaurants like P.F. Chang's, Nine Mile, Neo Burrito, and Luella's BBQ; and stores such as Barnes & Noble and REI.
Residents can easily jump on the Blue Ridge Parkway for an afternoon drive to soak in mountain views, or drive 10 minutes to the North Carolina Arboretum for incredible garden displays, hiking trails, and exhibits.
Nearby Schools
Public schools near Biltmore Lake include Hominy Valley Elementary School, Enka Middle School, and Enka High School. Private school options nearby include Asheville Catholic School, Emmanuel Lutheran School, and Asheville School.
Biltmore Lake, NC Homes for Sale
In the Biltmore Lake neighborhood, future residents can choose a new developer-built home; build a new custom home; or buy a previously-owned house for sale in the neighborhood.
Choose from a series of available land/home packages in the Cedar Rock and Cottage collections at Biltmore Lake. The Cedar Rock collection contains larger homes with landscaping, lawn maintenance, and irrigation included, while the Cottage collection contains smaller homes that contain many luxury features. Cedar Rock homes include three designs: the Coharie, the Staunton, and the Trent – all spacious and welcoming. Cottage designs include the Arts & Crafts-style Bungalow, the Tudor-style Tuckaseegee (also available in Rustic and Craftsman styles), and many more. Cottages can be built on plots of land in the Wilderness Cove area of Biltmore Lake.
Plots of land are also available in the Water's Edge section of the neighborhood, where you can purchase a homesite and build your custom dream home. Please contact us for more information on building a home in Biltmore Lake.
Many beautiful existing homes are available for sale in Biltmore Lake as well, ranging from cottages to mansions. Click here to see current listings.
Seasons at Biltmore Lake Condos and Apartments
If you're looking for a condo near Biltmore Lake, look no further than Seasons at Biltmore Lake. There are condos for sale here, as well as condos for rent under the name Seasons at Biltmore Lake Apartments. These condos and apartments offer a wide range of floor plans, wood-burning fireplaces, gourmet kitchens, mountain views, and close proximity to Smokey Park Highway, a convenient way into Asheville. Residents can enjoy an outdoor pool and clubhouse as well.
Frequently Asked Questions
What is the zip code in Biltmore Lake? Biltmore Lake's zip code is 28715.
Is Biltmore Lake open to the public? Most of the community is open to drive through without a visitor pass; however, the walking trails and lakeshore paths are restricted to residents and invited guests.
Is there a Biltmore Lake homeowners' association? Yes, Biltmore Lake Community Association is responsible for many aspects of life in the neighborhood, working behind the scenes to provide the best possible experience for residents. They coordinate maintenance, trash pickup, design regulations, budgets, and more. The Community Association's lifestyle director also coordinates a wide variety of activities for residents of all ages, from clubs and lectures to live outdoor concerts.
Moving to Biltmore Lake
We'd love to help you buy or build a home in Biltmore Lake! Please contact us to let us know you're considering Biltmore Lake, and we'll let you know about new listings that fit your criteria whenever they become available. You can also view the current listings in the neighborhood, and sign up for new listing alerts to stay in the loop.